The earth has an ever-changing landscape that continues to awe and amaze all those adventurous enough to explore it. Most of these places, some of which we have previously written about, like Machu Picchu, the Grand Canyon, and the Great Sphinx, you've heard of, and you have probably even visited some of them.
But there are also a number of amazing places that are so strange and weird that they look like they belong in a science-fiction movie. If you plan on taking a trip and want to visit somewhere that's out of this world, here is a list of ten of the weirdest places on earth.
Zhangye Danxia Landform, China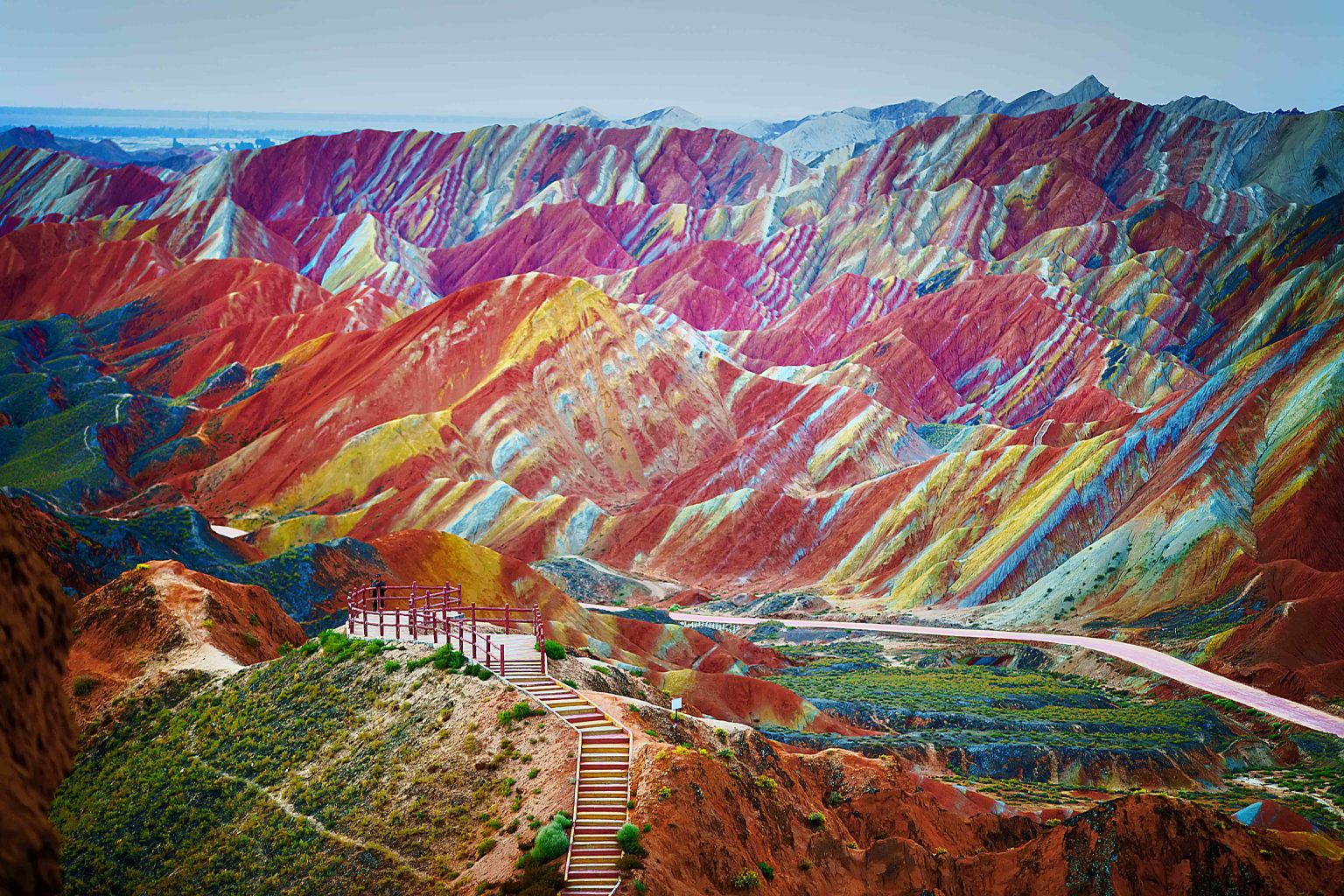 Known as the China Rainbow Mountains, this amazing landscape covers just under 200 square miles and is located in Linze County, China. The hills are covered in bright amazing colors that developed around 200 million years ago. Most of the hills are several hundred meters high and features sharp cliffs covered in gold, blue, and red among other colors.
Hitachi Seaside Park, Japan
Located in Japan and borders the Pacific Ocean, Hitachi Seaside Park features a jaw-dropping 350 hectares of land covered with a variety of different colorful flowers and grasses that change the color of the landscape throughout the four seasons. Some of the more popular times to visit include late April to mid-May when the Nemophilas bloom, and early to mid-October when the Kochias change color.
Mount Roraima, Venezuela
This mountain range is considered to be one of the oldest geological formations at two billion years old. Surrounded by three different countries, Brazil, Guyana and Venezuela, all four sides of this plateau mountain feature steep, 1,300-foot high cliffs and have some of the highest waterfalls on earth.
Lauca World Biosphere Reserve, Chile
This is a UNESCO-designated site that has an abundance of wildlife, including over 150 different species of birds, llamas, vicunas and alpacas. Located in northern Chile, the landscape features lakes, snow-capped volcanoes, meadows, mountains and rivers.
Maelifell, Iceland
This composite cone volcano is unique and beautiful. It was formed underneath a glacier by volcanic eruptions, and surfaced around 10,000 years ago when ice melted from the last ice age. It's completely covered in green moss and is surrounded by streams and rivers.
Mu Cang Chai Rice Terraces, Vietnam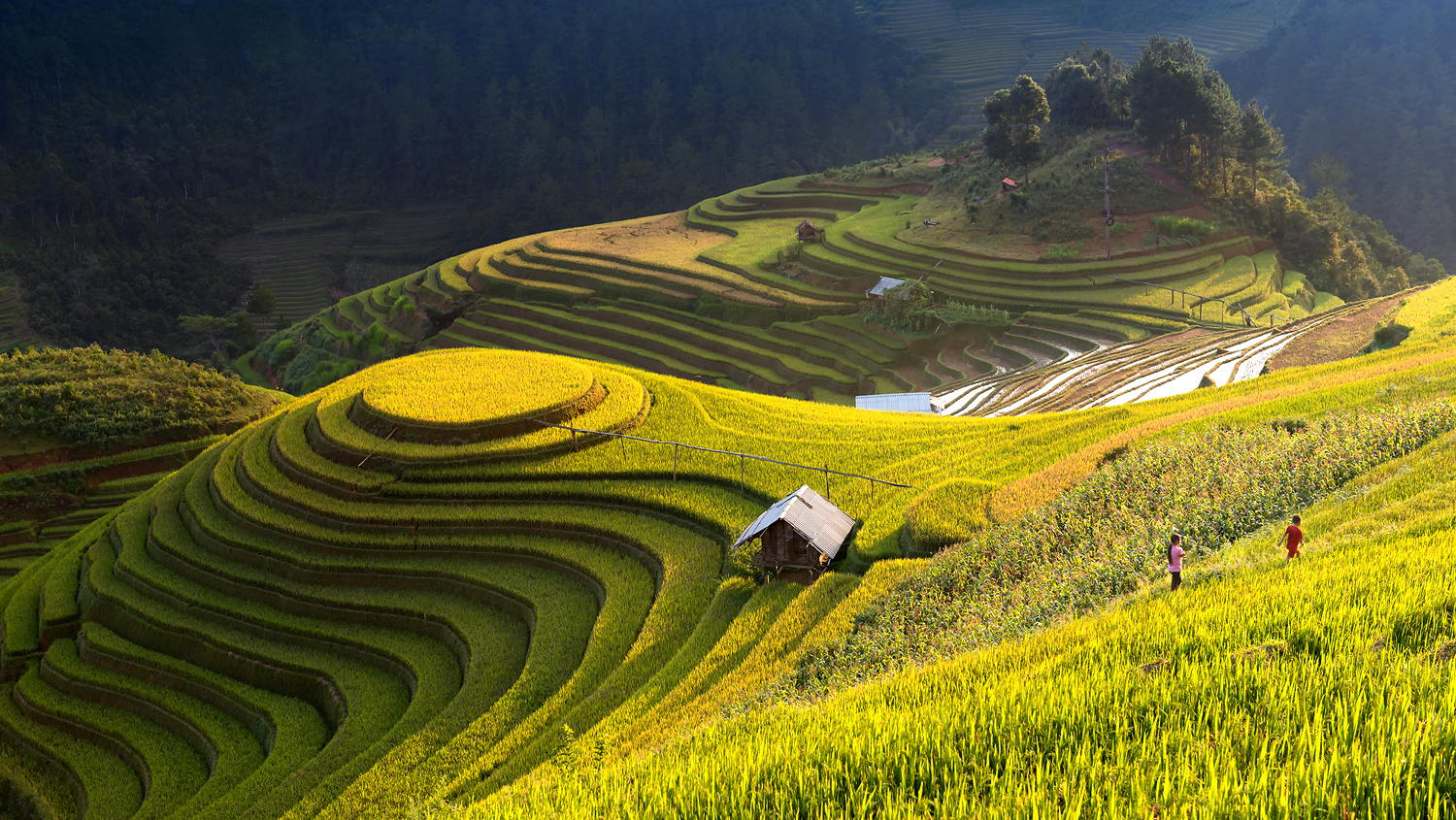 This unique landscape found in northwest Vietnam stretches across over 2,000 hectares of mountainside. Every year during the harvest season, thousands of tourists descend on this normally isolated area to view what the National Heritage of Vietnam recognizes as a unique scenery.
Dobsina Ice Cave, Slovakia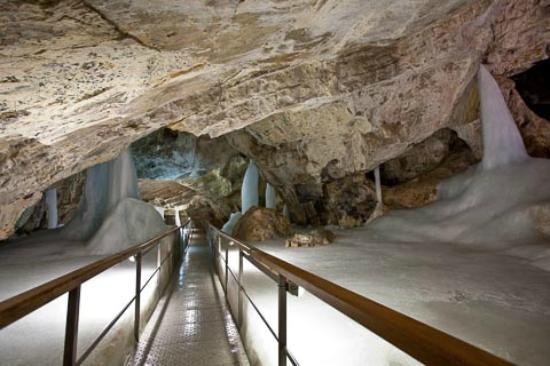 Part of the UNESCO World Heritage list, this ice cave was discovered in 1870 and became the first electrically lit cave in Europe in 1887. The majority of the cave's 8,874 square meters (equivalent to about 2 acres) is covered in ice, whose thickness reaches up to 80 feet in places.
Pamukkale, Turkey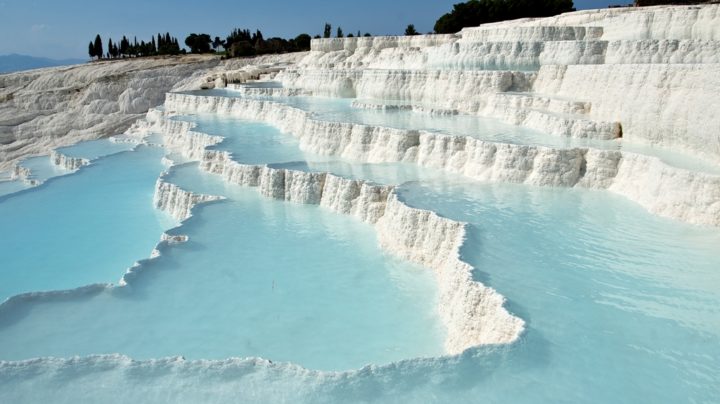 This unique geological treasure is not only the site of well-preserved ruins of the ancient Greek-Roman city of Hierapolis, but also features a number of hot springs surrounded by bright terraces of travertine. The name, which means "cotton castle" in Turkish, refers to the snow-white limestone shaped over thousands of years by the calcium-rich water.
Slope Point, New Zealand
Located in the southernmost point of New Zealand's South Island, this region faces constant cold and fierce south-westerly winds that come from the south-pole. The wind is so powerful that it has even affected the landscape by twisting and warping all the trees in the direction that the wind blows.
Stone Forest, Madagascar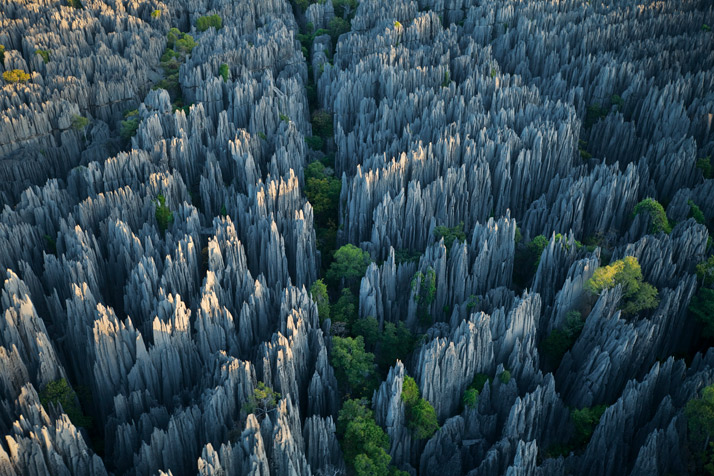 Known as 'Tsingy', which means 'where one cannot walk barefoot,' this stone forest covers 230 square miles with a labyrinth of razor-sharp stones as tall as 300 feet. Years of rain have formed the mountains of limestone into tall, spiked towers that make it incredibly difficult to explore, and dangerous if you don't know what you are doing.  Although it looks like an inhospitable environment, a tropical forest grows among the rocks, allowing for hundreds of species of birds, lemurs, lizards and insects to thrive, 90% of which are only found in this somewhat crazy landscape on the island of Madagascar.