With so much going on in the world affecting geography, and we last wrote on issues such as global warming and over-population, along with all the new technologies to combat these problems, it's more important than ever to keep up with all the latest news.
There are several symposia on the subject of geography you can visit in 2017 to help you keep abreast of developments. Here we will go over some of the top events for the year, what type of information you can expect to get from each one, and how this information will shape our future.
Geographical Indications – International Symposia
WIPO (World Intellectual Property Organization) organizes this symposium every two years with an interested Member State. The goal is to create a forum in which an assembly of international experts, Geographical Indications (GI) producers, representing academia, non-governmental organizations and member states' administrations can exchange ideas and opinions on different issues, and consistently contribute to the argument on geographical indications at both the international and national level. The Worldwide Symposium on Geographical Indications was held at the Convention Center in Yangzhou, Jiangsu Province, China, from June 29 to July 1, 2017.
ICHST Rio 2017 International Symposium
Organized by the International Union of History and Philosophy of Science and Technology (IUHPST) and the International Geography Union (IGU), there will be two symposia, "Geography as an international science: historical perspectives and present challenges," and "Critical, radical and postcolonial geographies and cartographies from early approaches to present-day debates." The event was held in Rio de Janeiro, Brazil, from July 23 to July 29, 2017.
17th International Medical Geography Symposium
Considered the leading international gathering of medical and health geographers, the IMGS took place in Angers, France, from July 2 until July 7, 2017. The University of Angers hosted the event and the theme was "Practicing health and medical geography in 2017." This conference attracts anyone interested in health geography.
International Symposium On GIS Applications In Geography And Geosciences
Çanakkale Onsekiz Mart University organized the ISGGG, which is scheduled to take place in Çanakkale, Turkey, from October 18 until October 21, 2017. The goal of the symposium is to bring together research on applied Geographical Information Systems in a variety of different fields, including ecology, geology, tourism and geography. Participants will have a chance to exchange their experiences and ideas while building relationships and laying a foundation for future collaborations.
Applied Geography Conference
On November 10, 2017, there will be a business geography symposium held at Kent State University, Ohio, where there will be a panel discussion on matters concerning geographic practice in business. There will also be paper sessions focusing on information gathered from applied research in business geography.
Resilience And Bio-Geomorphic System – The 48th Annual Binghamton Geomorphology Symposium
Put together by the Department of Geography at Texas State University in San Marcos, the symposium will be on October 14 and 15, 2017. The goal is to work together and figure out how economies, societies and biophysical systems can be governed in a way to ensure resilience.
Undergraduate Research Symposium, Department Of Geography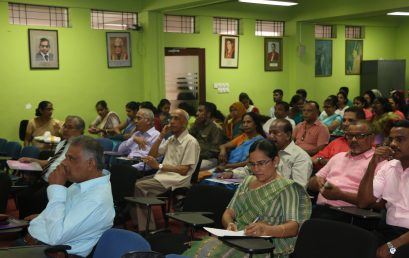 The University of Colombo, Sri Lanka, is holding its first Undergraduate Research Symposium on July 19, 2017. There are several different themes that will be discussed at the symposium, including exploring what drives physical environmental changes, socio-dynamics and development, and human behavior.
21st Annual Severe Weather Symposium
On May 24th, 2017, the Ohio State University's geography department held its Annual Severe Weather Symposium at the US Bank Conference Theater. Several keynote speakers shared ideas and new information on how weather affects the world's geography.